Jalles receives tribute from the IAC
We received the Mais IAC Award from the Campinas Agronomic Institute, which recognizes the Jalles Machado Unit as the plant with the largest area cultivated with IAC sugarcane varieties in Brazil for the 2022/23 harvest. The award ceremony was held at the IAC Sugarcane Center, in Ribeirão Preto/SP, on February 28. Representing the Jalles Machado […]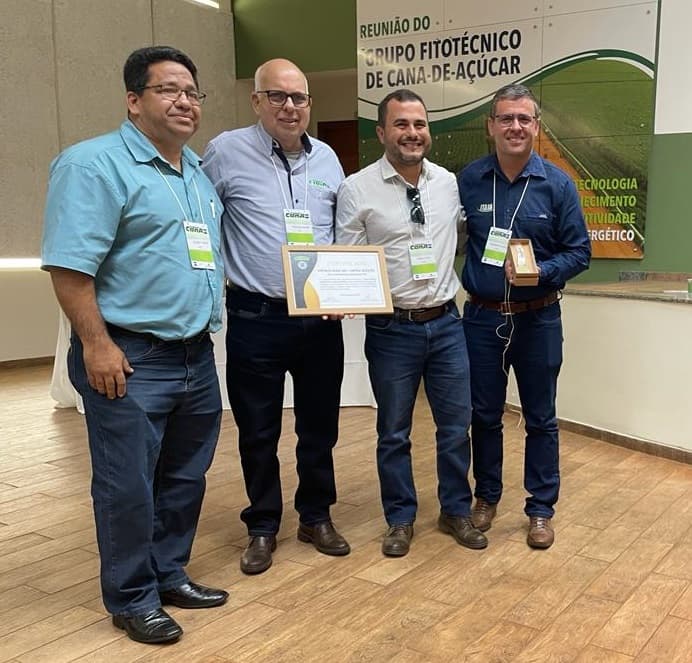 We received the Mais IAC Award from the Campinas Agronomic Institute, which recognizes the Jalles Machado Unit as the plant with the largest area cultivated with IAC sugarcane varieties in Brazil for the 2022/23 harvest.
The award ceremony was held at the IAC Sugarcane Center, in Ribeirão Preto/SP, on February 28. Representing the Jalles Machado Unit were the agricultural manager Edgar Alves, the planning and agricultural research manager, Rogério Xavier, and the Coordinator of Research and Development, Waldemire Queiroz.
Jalles has been a partner of the IAC Cane Program since the early 1990s, in the development of sugarcane varieties adapted to the Cerrado conditions, being modern varieties with better results in agricultural productivity.
Also see
See more related content